SECRETS OF FAT-FREE GREEK COOKING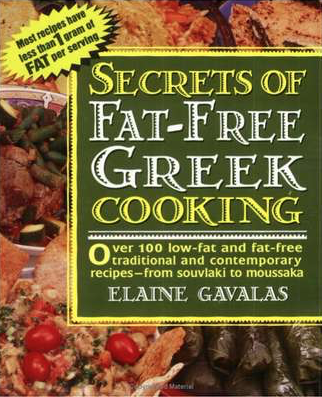 Discover the world's healthiest and most delicious diet with Elaine's new ebook edition of Secret's of Fat-Free Greek Cooking. Naturally delicious, traditional Greek cooking uses simple, wholesome ingredients and is the perfect antidote to the typical high-calorie, processed foods diet. Now you can learn how to make mouth-watering traditional Greek delights, using the latest cooking products and techniques, for your eating pleasure. Includes complete nutritional analysis for each recipe and a glossary of commonly used ingredients.
Using Secret's of Fat-Free Greek Cooking as a companion book to The Yoga Minibook for Weight Loss can help you achieve and maintain your desired weight goals, make your best food choices, and enjoy a lifetime of delicious, healthful eating and good health. Secrets of Fat-Free Greek Cooking was featured on PBS nationally with the television program, "The Greek Americans".
Whether you are cooking for a holiday get-together, your family or yourself, you'll find Secrets of Fat-Free Greek Cooking a treasure trove of timeless Greek classics and contemporary favorites. The gods would approve.
______________________________________________________________
Obesity has become a focus of national concern, since Federal health experts announced that 55% of Americans are overweight or obese. According to experts, if this trend continues, most Americans will be part of a national health emergency.
Since fad diets leading to permanent weight loss are so unsuccessful in the long term, you may want to approach weight management from a holistic perspective that encompasses the mind, body and spirit. By incorporating Secrets of Fat-Free Greek Cooking's deliciously healthful Mediterranean cuisine into your eating style and the yogic weight loss principles found in The Yoga Minibook for Weight Loss, you can achieve a lifetime of weight loss success, as you enjoy delicious, healthful eating and glowing, good health.
You'll find more weight loss tips and advice at Elaine's Natural Health Blog - click on the link at the top of this page
______________________________________________________________
NATURALLY HEALTHFUL GREEK COOKING
Medical researchers have rediscovered that traditional Greek cuisine is the healthiest food in the world. Scientific evidence shows that the rural people of Greece have the lowest rates of diet-linked disease (including breast cancer and heart disease), and the longest life expectancy. The traditional Mediterranean diet includes generous amounts of fruits, vegetables, beans, whole grains, and nuts, that are consumed every day. Fish and lean poultry are eaten several times a week. Goat cheese and thick goat yogurt are also daily fare. Olive oil is used liberally, wine in consumed in moderation, and regular physical activity is encouraged.

RECIPE FROM CHAPTER 3:
LENTIL SOUP - FAKI
My mother always made this warming, satisfying soup, especially during Lenten fast.
Yield: 6-8 servings
1 cup dried lentils, cleaned
8 cups water, or 2 quarts fat-free chicken stock
½ cup canned tomato sauce
1 carrot, peeled and chopped
2 sprigs parsley, chopped
1 clove garlic, minced
2 bay leaves
1 stalk of celery, finely chopped
1 cup of onion, finely chopped
½ teaspoon honey
¼ teaspoon freshly ground black pepper
2 tablespoons red wine vinegar
1. Place the lentils and all of the ingredients except for the vinegar in a 4-quart pot, and bring to a boil over high heat. Reduce the heat to low, cover, and simmer, stirring occasionally, for about 45 minutes, or until the lentils are soft. You may need to add water to keep the soup at the desired Consistency. The lentils are done when you can easily mash them with a fork. Do not overcook the lentils, or they will become mushy.
2. Add the wine vinegar and stir to mix well. Remove and discard the bay leaf.
3. Ladle the soup into individual serving bowls, and serve immediately.
NUTRITIONAL FACTS (PER SERVING)
Calories: 95 Carbohydrates: 17 g Cholesterol: 0 mg Fat: 0.1 g Fiber: 5.4 g Protein: 5.9 g Sodium: 107 mg
RECIPE FROM CHAPTER 6:
BAKED CHICKEN OREGANO - KOTOPOULO RIGANI
Serve this flavorful baked chicked with Athenian Potatoes (page 65) and Greek Salad (page 48).
Yield: 4 servings
4 chicken breast halves with skin and bone (8 ounces each)
½ teaspoon garlic salt,
½ teaspoon freshly ground black pepper
½ teaspoon ground paprika
2 tablespoons dried oregano, or ¼ cup fresh
Juice of 2 medium lemons (about 1/2 cup)
1/2 cup water
Fresh oregano sprigs for garnish (optional)
1. Preheat the oven to 350 F. Lightly spray a 9-x-13-inch baking pan with olive oil cooking spray and set aside.
2. Rinse the chicken, pat dry with paper towels and place skin side up in the baking pan. Working with 1 breast at a time, insert your thumb under the skin and loosen it from the flesh. Lift the loosened skin, and sprinkle each breast with garlic salt, black pepper, paprika and oregano. Replace the skin to cover the seasoned breasts.
3. Combine the lemon juice and water, and pour it over the chicken breasts.
4. Bake uncovered for approximately 1 hour, or until the chicken is tender and the juices run clear when pierced with a knife or fork.
5. Remove the skin from each breast, garnish with fresh oregano sprigs, and serve.
PER SERVING:
Calories: 154 Carbohydrates: 3 g Cholesterol: 65 mg Fat: 4 g Fiber: 0.5 g Protein: 26 g Sodium: 331 mg
BOOK REVIEW FROM Publishers Weekly
Exercise physiologist Elaine Gavalas celebrates her heritage by offering healthy traditional recipes in Secrets of Fat Free Greek Cooking. In the introduction, Gavalas contends that "the Greek Mediterranean people have the lowest rates of diet-linked disease and the longest life expectancy in the world". She finds that their "rural cooking is the perfect antidote to the American high-fat and high-calorie diet. Recipes include Baked Lamb with Orzo, Swordfish Souvlaki and Fig Spoon Sweet.
EXCERPT OF BOOK REVIEW FROM The GreekAmerican
The latest entry in a series of cookbooks featuring fat-free cuisine is Secrets of Fat Free Greek Cooking. Could it be? All those recipes we love without the caloric cost?
On the heels of Secrets of Italian, Indian, Kosher and Chinese Cooking, comes the Greek rendition, written by dietitian Elaine Gavalas, who touts the Greek culinary lifestyle as the perfect antidote to the high-fat and high-calorie American diet. Greek rural cooking, she says, is naturally low in fat, and offers and abundance of aromas, colors and flavors that make every meal a work of art. The author even manages to bring in a bit of dietary Greek philosophy: Aristotle's maxim that "in all things moderation is best."
The author watched her mother and grandmothers make many of the 100 dishes in the book. Here she combines that experience with the knowledge gained from studying for a master's degree and certification from Columbia University, with expertise as an exercise physiologist. The result is a cookbook as much about health as about cuisine, featuring an extensive section of the fat calories and recommended low fat alternatives. A thorough explanation of food label terms and Greek specialty ingredients leave no confusion as to the practical elements of managing a low-fat Greek diet...
From mezedes to deserts, many favorite Greek foods are included in Secrets of Fat Free Greek Cooking. There are recipes for tsoureki, pastitsio, moussaka, yiouvetsi, souvlakia, and faki. Recipe names are given in the English spelling of the Greek word, and also in English translation. For instance, the recipe for koulourakia is also listed as sweet cookies.
The book relies heavily on vegetarian, fish and meat dishes that are naturally low in fat. So there are plenty of recipes for the likes of tomato salad, vegetable soup, eggplant salad, vegetable omelet, roasted vegetables, and cucumber salad. There are also naturally low fat cooking methods already popular in Greek traditional cooking, such as broiling fish, baking chicken and boiling greens. And new inventions: vegetables stuffed with turkey, rather than beef.
The book is well laid out with one recipe to a page,and has easy instructions and good illustrations, where needed. Nutritional facts for a recipe break down the content of each dish. Special sections include topics such as reducing the fat in ground beef, buying fish, preserving and preparing fresh vegetables, working with phyllo, and a guide to greens. There are some reminisces, and even a section on coloring red Easter eggs.
EXCERPT OF BOOK REVIEW FROM The Library Letter
BU Library Reference No. RM237.7.G47 1998
Secrets of Fat Free Greek Cooking is a very good place to start for anyone wishing to get a taste of Greek food...The pages of the book are filled with foods and spices that read so well you can almost taste the lemon, dill, oregano, mint, anise and pepper mingling with the chicken, lamb, chickpeas, sweet peppers, feta cheese, and fillo dough. If your mouth isn't watering by now, it will be after you have flipped through the pages for a few minutes.
In addition to the recipes, the book takes numerous side trips to discuss various aspects of Greek history, culture, and geography that will tempt you to daydream and linger within its pages. There are also lots of tips about how to prepare the various foods and adapt the recipes to your own taste. Most of the recipes are relatively simple to prepare with almost no exotic ingredients.