THE YOGA MINIBOOK FOR STRESS RELIEF, BALANCE SET & RENEWAL VIDEO SET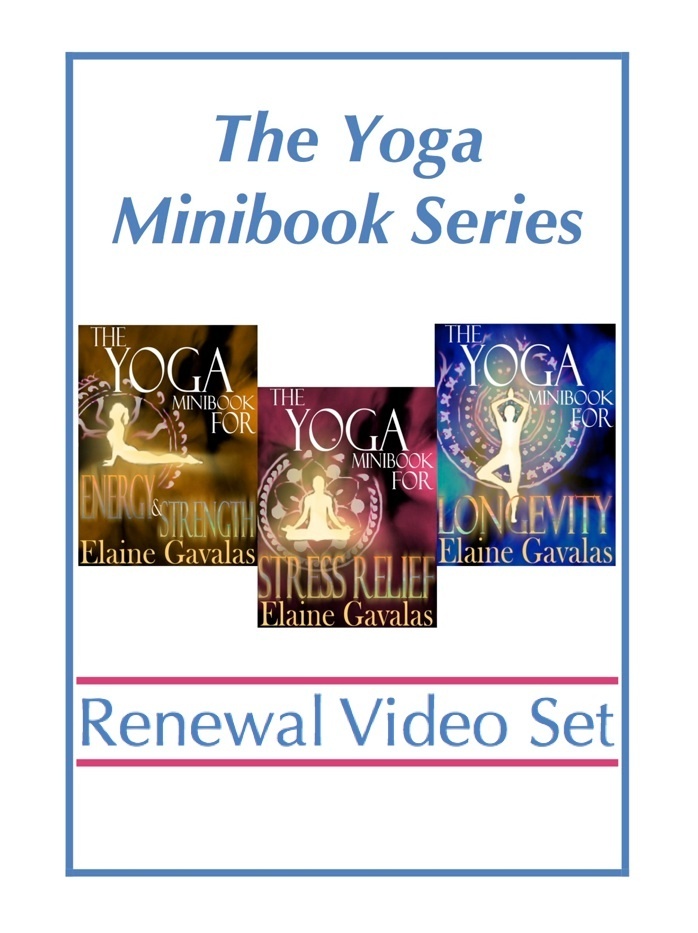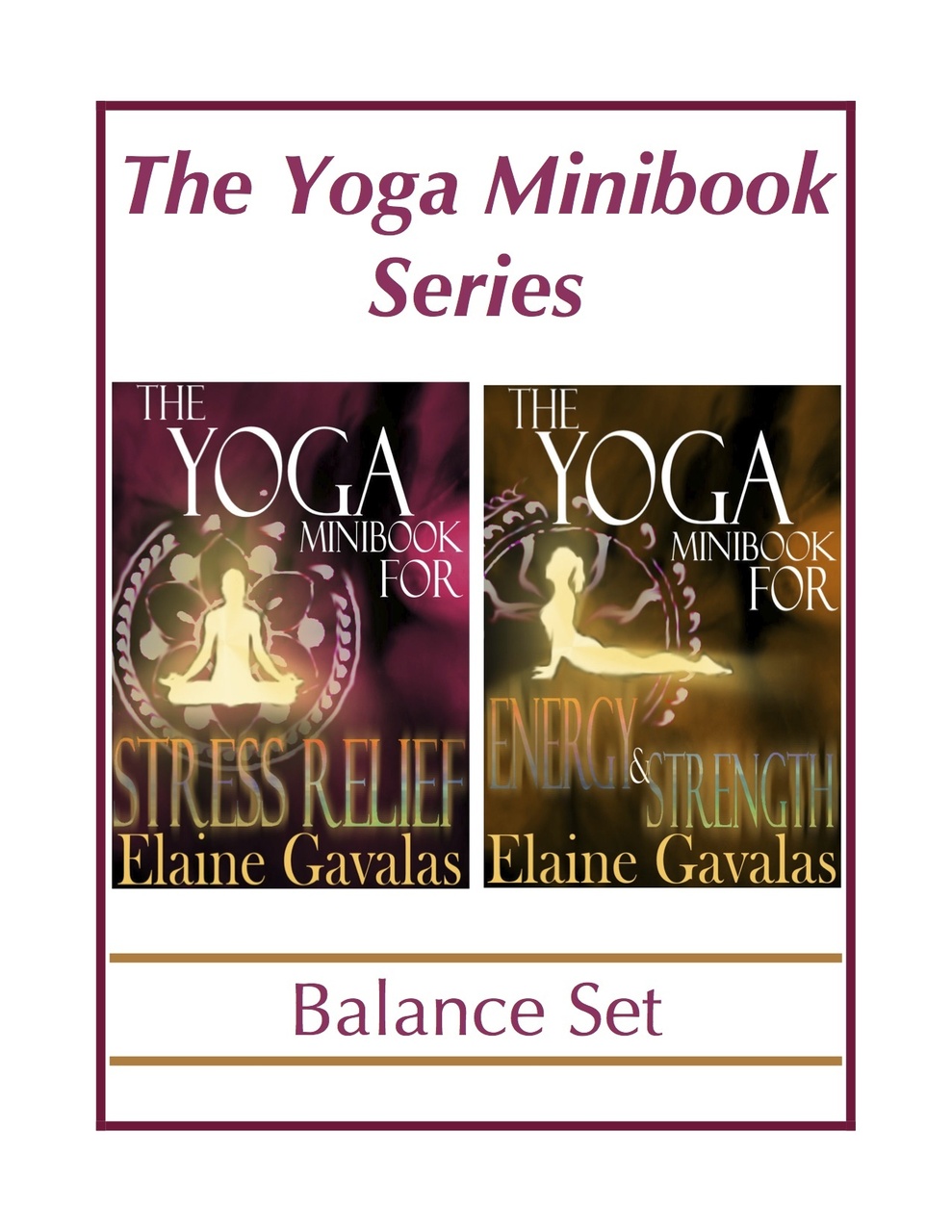 Elaine's Yoga Minibook Series is now available in bargain box sets!
Just one-click-buy and have several Ebooks on your Reader!
THE YOGA MINIBOOK SERIES BALANCE SET features the new, expanded editions of THE YOGA MINIBOOK FOR STRESS RELIEF and THE YOGA MINIBOOK FOR ENERGY & STRENGTH.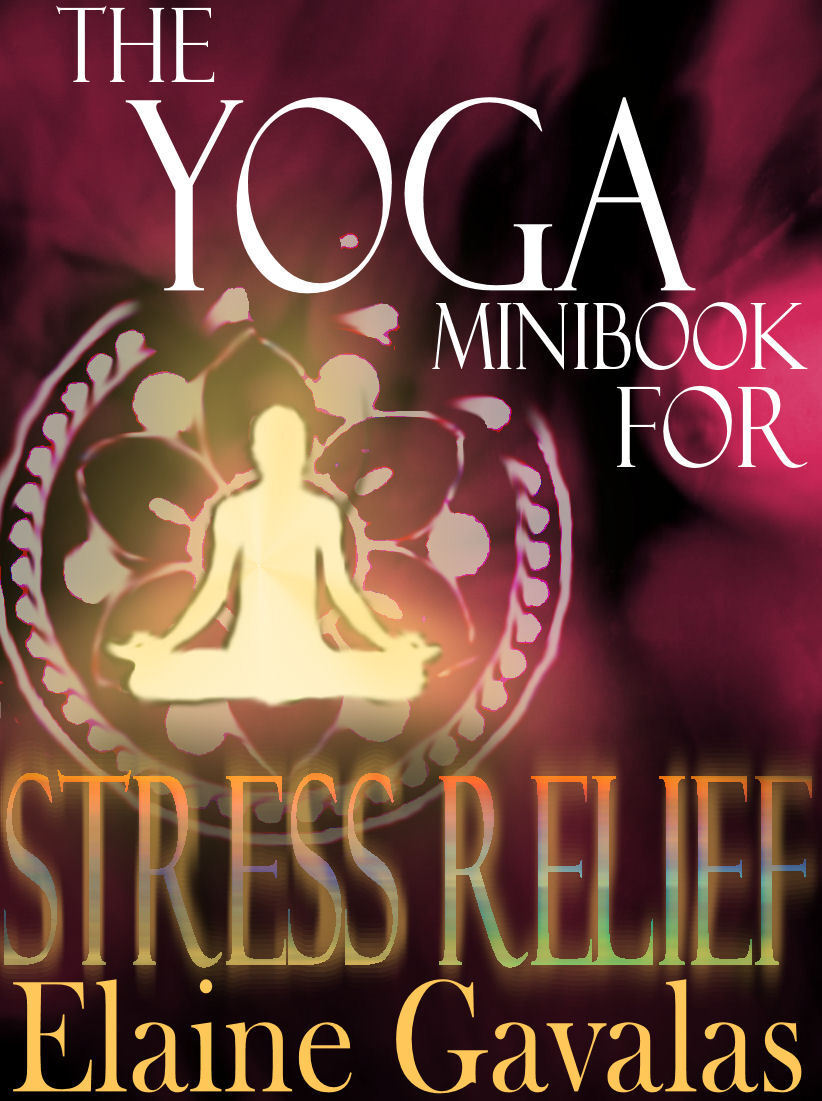 Take a deep breath and say goodbye to stress with THE YOGA MINIBOOK FOR STRESS RELIEF.
Third in the Yoga Minibook Series, THE YOGA MINIBOOK FOR STRESS RELIEF provides yoga exercises and practices to relieve tension and restore balance that stress so often disrupts. With chapters on restorative yoga, yoga movement meditation, and yoga for emotional wellness, readers can create 10-minute, anxiety-busting routines tailored to their needs.
The new, expanded ebook edition of THE YOGA MINIBOOK FOR STRESS RELIEF contains exclusive bonus extras including Elaine's Yoga for Stress Relief Articles.
Step-by-step illustrated instructions guide you through calming yoga breathing, exercises and meditations specifically selected to:
*Combat anxiety, depression and stress related illness
*Soothe muscles and lower blood pressure
*Relieve tension and renew your body, mind and spirit
*Provide rest, relaxation and tranquil sleep
*Improve your flexibility and cardiovascular fitness
The Yoga Minibook Series was written as self-help guides in response to people's many fitness, diet and wellness problems, questions and concerns. Elaine's Ebook cookbooks, YOGI IN THE KITCHEN and SECRETS OF FAT-FREE GREEK COOKING are companions to The Yoga Minibook Series.
Coming Soon:
The Ebook Edition of THE YOGA MINIBOOK SERIES BOXED SET!
___________________________
AMAZON REVIEWS *****
"GREAT BOOK! ****
Easy to read and understand with keen insights for everyone whether new to yoga or not. I recommend this author." D. Watkins
"THE YOGA MINIBOOK FOR STRESS. *****
This was a gift for my daughter. She loves yoga and has a job that can be stressful at times. This book helps her to relax and deal with stress on a better level. She enjoys reading it. Thank You!" Rosa Bell Lopez
"NICE GROUPINGS OF POSES
I really enjoy this book and the other 3 (or 4) in the same series. They are nice groupings of poses that compliment each other and many of the routines take about 10-15 minutes to complete. So if you are pressed for time, or need/want to target a certain body part for stretching or relief, these series of books are great." ShannenF